Community Service
Alone we can do so little; together we can do so much.
No one is more cherished in this world than someone who lightens up the burden of another.
Through the years, students of South City International School have been visiting, sponsoring meals, providing with necessities, spending quality time with the elderly residents of various old age homes like Little Sisters of the Poor, Tollygunge Homes, organisations like Hope Foundation, providing assistance to HelpAge India, Tiljala Shed and Responsible Charity. Students along with the teachers and principal have visited the Yaas cyclone devastated areas of Sunderbans. Some senior students have also launched 'Send a Meal' which has provided meals to more than 1800 Covid positive patients, Covid frontline workers and the needy. And we are still continuing our journey to reaching out to our less privileged brothers and sisters.
Socially responsible citizens: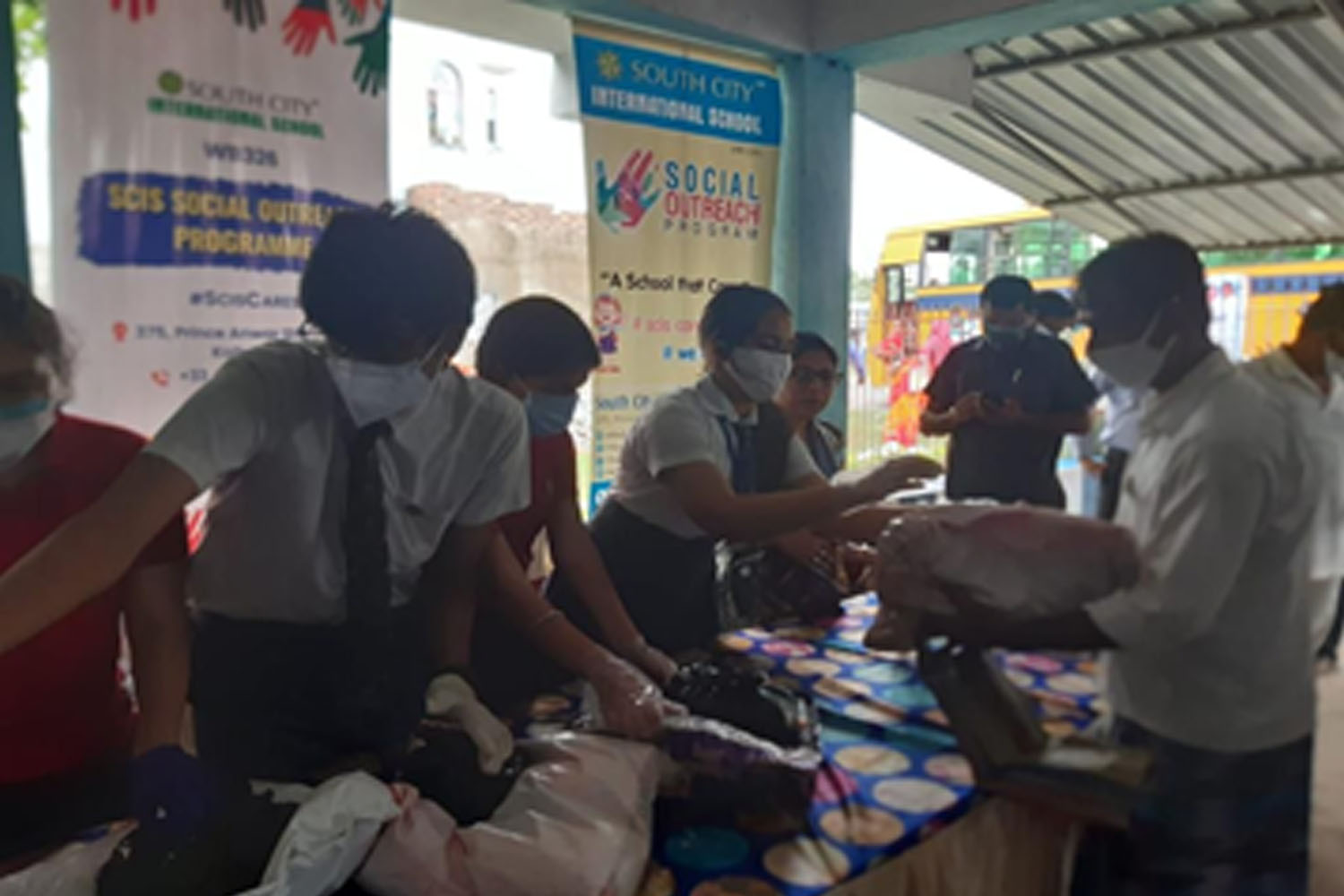 Relief Work in Sunderbans after cyclone 'Yaas'
In the face of crisis during the Pandemic, one witnessed the rise of sensitivity in children of South City International School. Students went all out in their social outreach programmes. On 22 July, 2021, under the guidance of Dr Maria Fernandes, a member of the West Bengal Commission of Women, our Principal along with a team of teachers and some Senior School students visited Bamanpukur village in the Sundarbans to distribute dry rations to 250 families affected by the Yaas cyclone.
In a remarkable initiative, students raised a sum of ₹78,000 to help with the relief, in a short span of five days.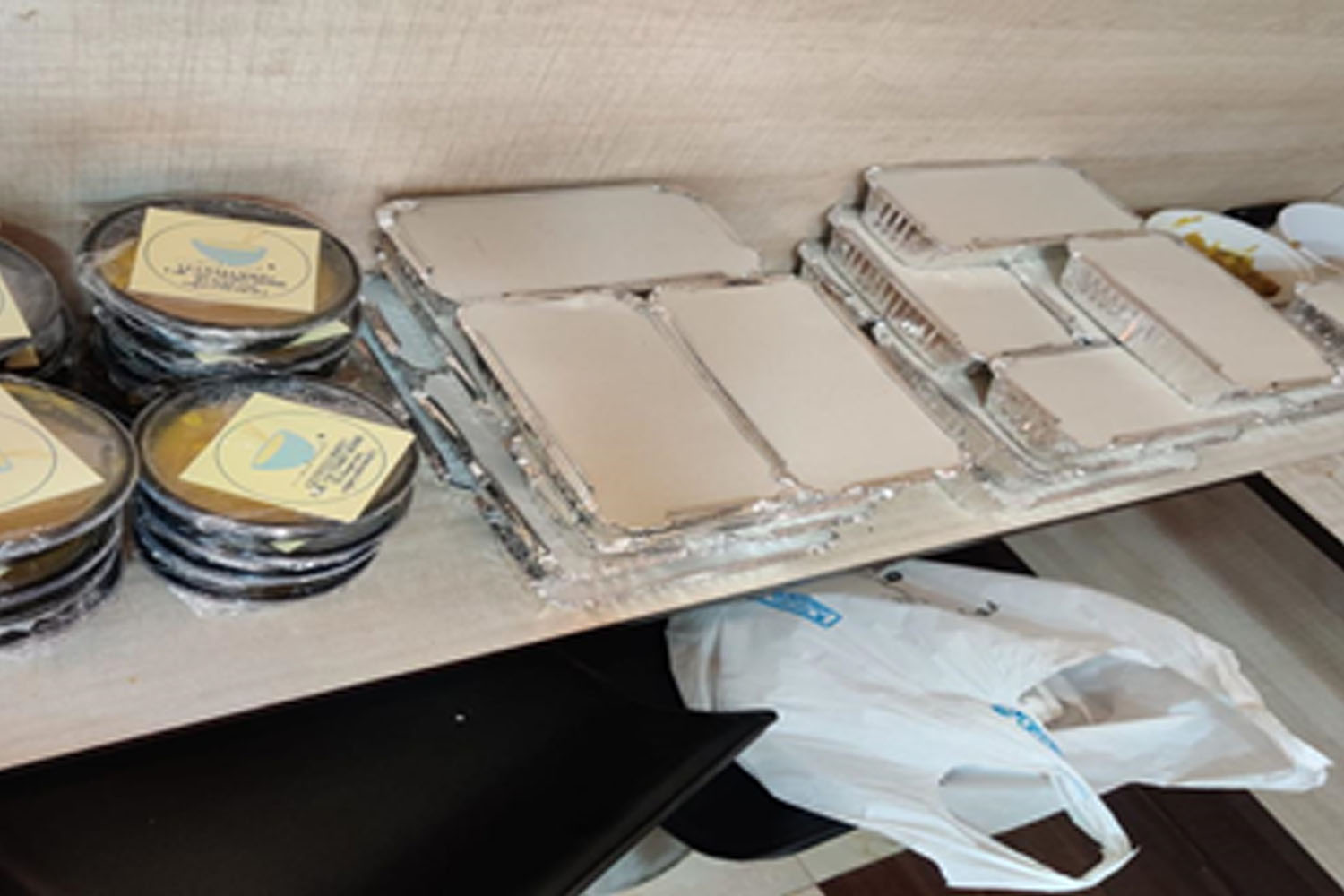 Send a Meal: An Initiative started by the senior students of SCIS
Send A Meal is an initiative started by some senior students of South city International School to help out COVID positive patients who were home quarantined, COVID frontline workers and those in need during these desperate times. The initiative was started in May 2020. Till date, the students have served over 1800 people with healthy and nutritious meals as well as dry ration. They have served meals to NGOs namely Beliaghata Both Foundation and Little Sisters of the Poor. It is their belief that even the smallest efforts go a long way.
Long Term projects
South City International School has joined hands with various NGOs like Hope Foundation, Tollygunge Homes, Little Sisters of the Poor, Responsible Charity, HelpAge India, Premashree and Ektara Foundation and so on, to reach out to the less privileged.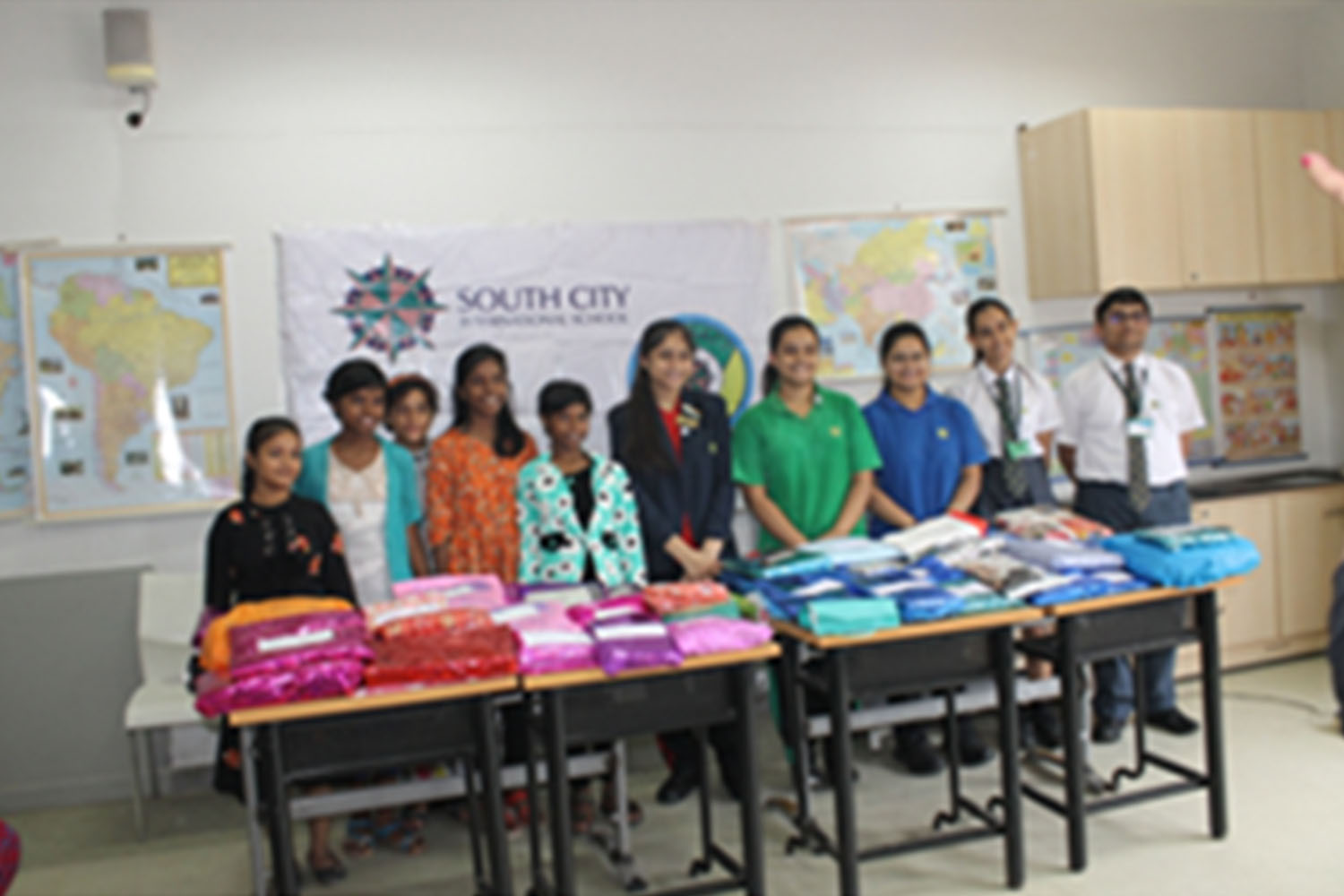 Daan Utsav: The Joy of giving
South City International School has taken part in the Daan Utsav, organised by the Hope Foundation every year during the Durga Puja, since 2013, where the students donate new clothes for underprivileged children. In Daan Utsav 2019, students of SCIS contributed wholeheartedly, providing new clothes for the age group of 6 to 17 (Pujor Notun Jama) and handed them over to the representatives from Kasba Girls' Home.
In a remarkable initiative, students raised a sum of ₹78,000 to help with the relief, in a short span of five days.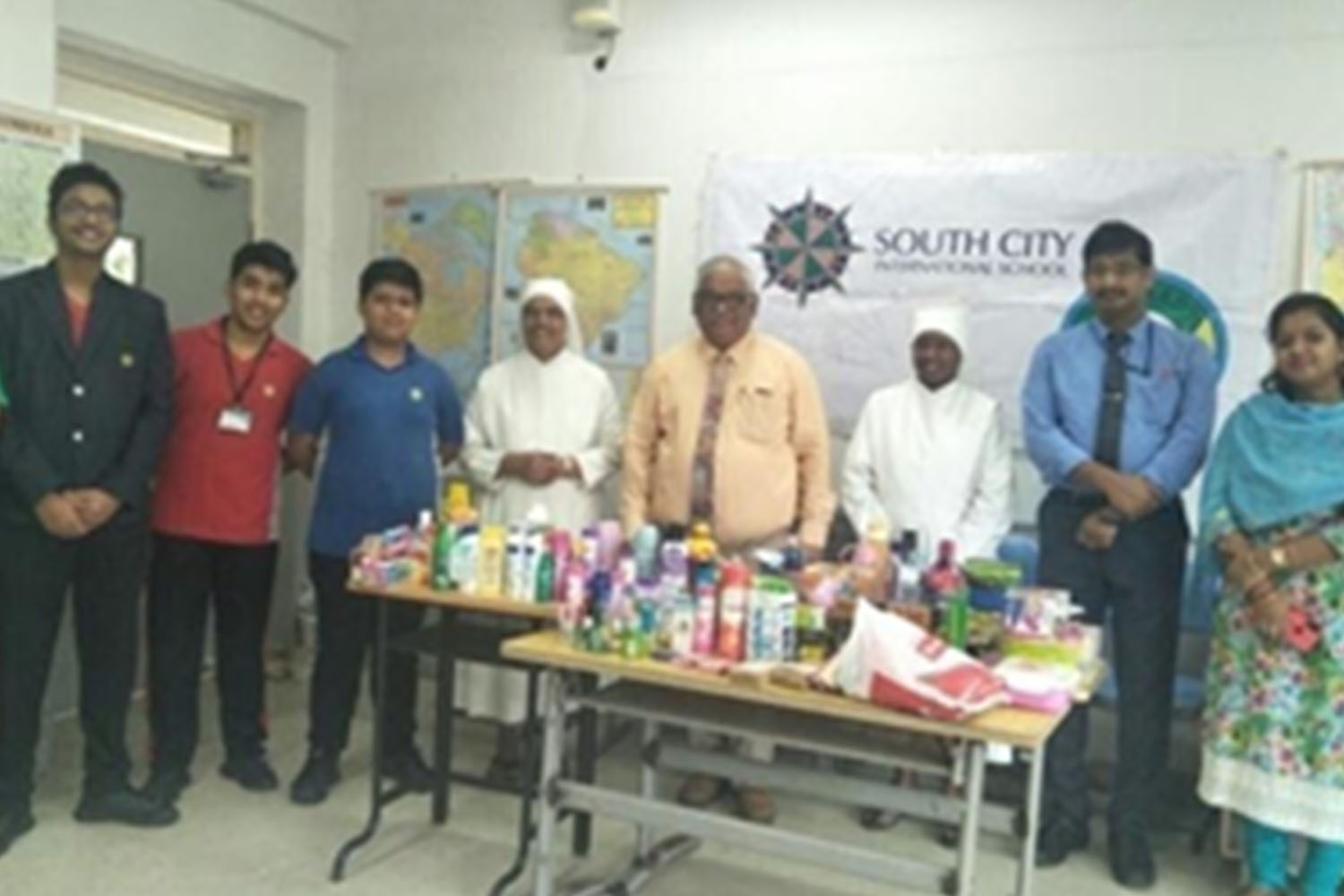 Little Sisters of the Poor
SCIS had joined hands with Little Sisters of the Poor, a home for the elderly, since 2014. In December 2019, the students collected items such as chocolates, coffee, tea, health drinks, fruit juice, soap and shampoo, jam bottles, pickles, noodles, milk powder, biscuits, soap boxes, face cream, balms, coconut oil, toothbrush and toothpaste, towels, tiffin boxes, water bottles, mosquito repellant refills and shaving cream from the students to donate to the Little Sisters of the Poor. Frequent contribution are also made for sponsoring the meals for the boarders.

Tollygunge Home: A Home for the elderly
SCIS had joined their hands with Tollygunge Home since 2015. On Children's Day, 14th November 2019, the school sponsored breakfast and lunch to the elderly residents who crave for love and affection. The residents shared their personal stories with the students.
Morpheus Fest Fundraiser
The annual school fest of South City International School—Morpheus, started its journey in 2019. However, Morpheus is much more than just a school fest. The funds collected in the 'Fundraiser event' are donated to help some social cause. In Morpheus 2019, ₹1,12,861 had been raised through the 'Fundraiser event'.
The proceeds from the fundraiser went as follows:
A part of it went to 'Aashaniketan' to provide for the medicines of their mentally challenged boarders.
₹30,000 was donated to 'Responsible Charity', a philanthropic institution, to buy a laptop for their Pune centre.
A part of it was used to sponsor for sanitary napkins for sixty-five underprivileged women for a year.
About ₹70,000 was raised in the 'Fundraiser event', of Morpheus 2020 (which was held online), the proceeds of which went to distribution of sanitary napkins at 'Sarada Ashram', an ashram for underprivileged women in rural area. In Morpheus 2021 (also held online), the funds raised in the fundraiser event, went to an NGO called Prajaak.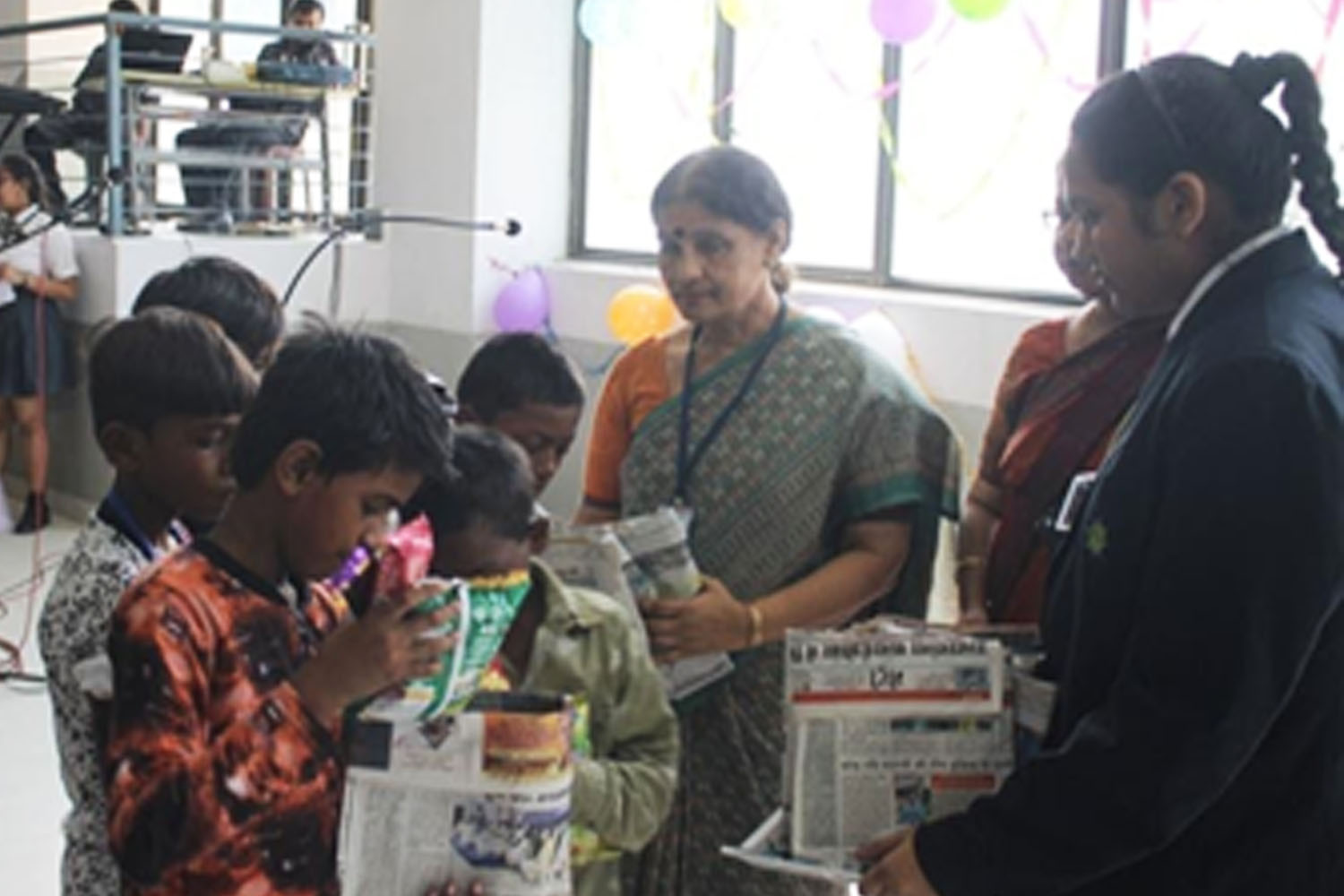 Children's Day celebration with the children of Tiljala Shed
On Children's Day 2019, forty children from Tiljala Shed, an organisation which works for children of the rag-pickers, were invited to SCIS to spend some time filled with fun and frolic with the students. The students of classes IX and X actively participated in the event. They brought food from their homes and set up stalls in the Cafeteria.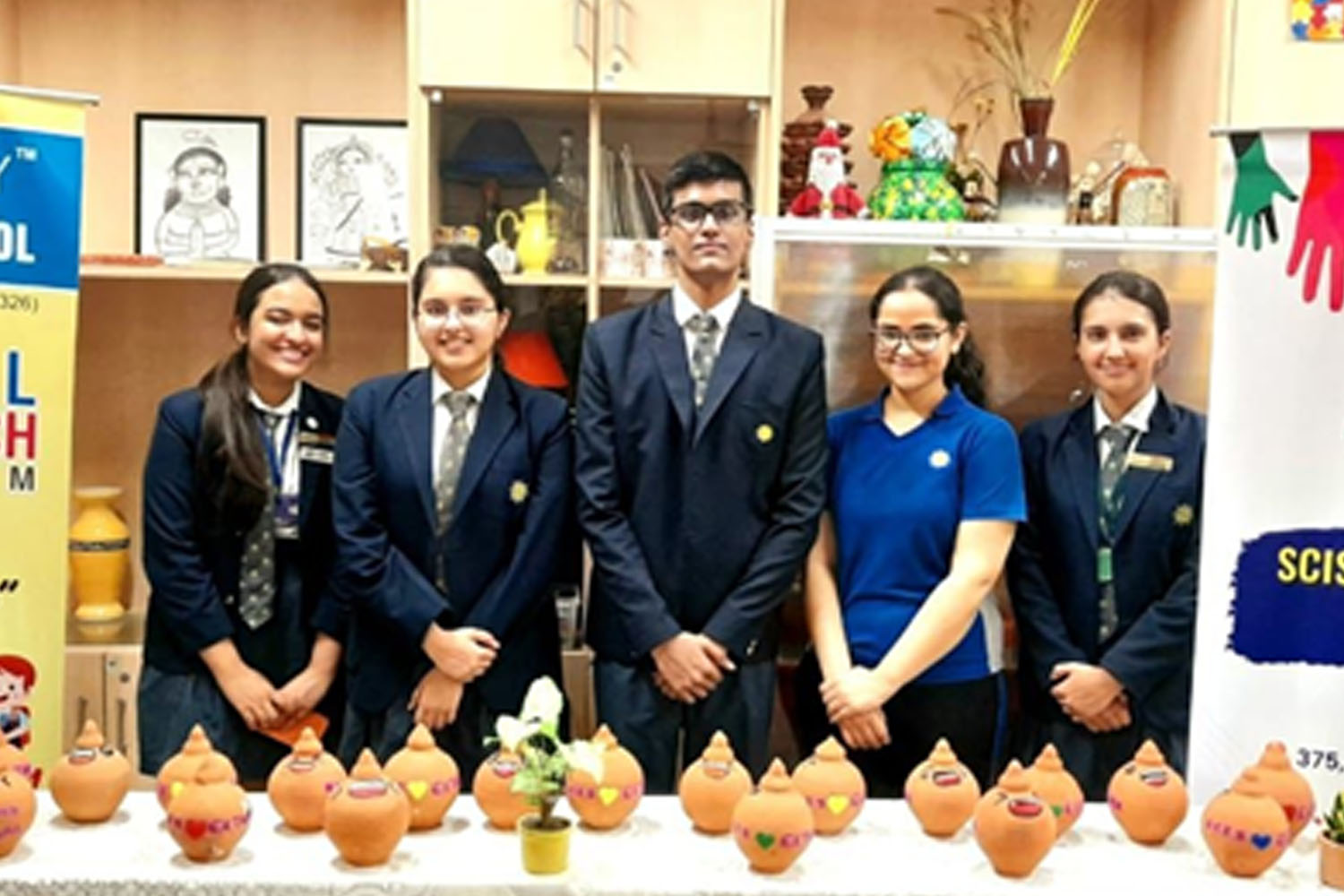 The Ektara Foundation
The Ektara foundation is a Kolkata based NGO that provides educational facilities, vocational development and health and hygiene facilities to over 950 children between the ages of 6 and 14 in slums of Topsia and Tiljala. For the project with the Ektara foundation, the school started a micro savings program, that is still ongoing, with clay and mud pots made by the children of Ektara.
The Face of Maturity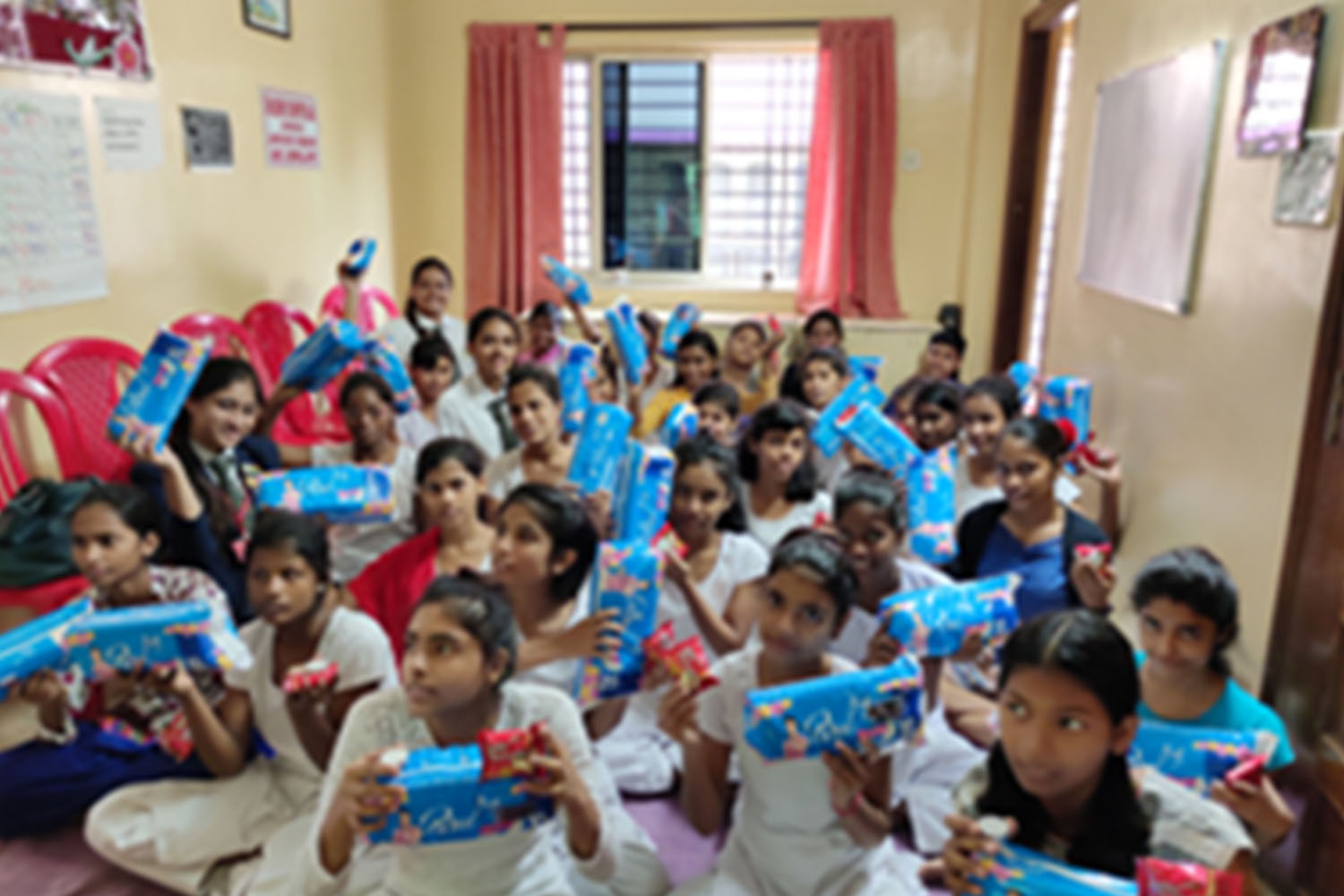 Menstrual Awareness Programme
In October 2019, the students of SCIS visited Aashar Aalo, a girls' home, under the aegis of the Hope Foundation. There were 39 girls in the home, either abandoned or belonging to the underprivileged section of the society. Along with the distribution of sanitary napkins, students of South City International School gave a short presentation on Menstrual health and spoke to the girls about menstrual hygiene and the myths associated with it.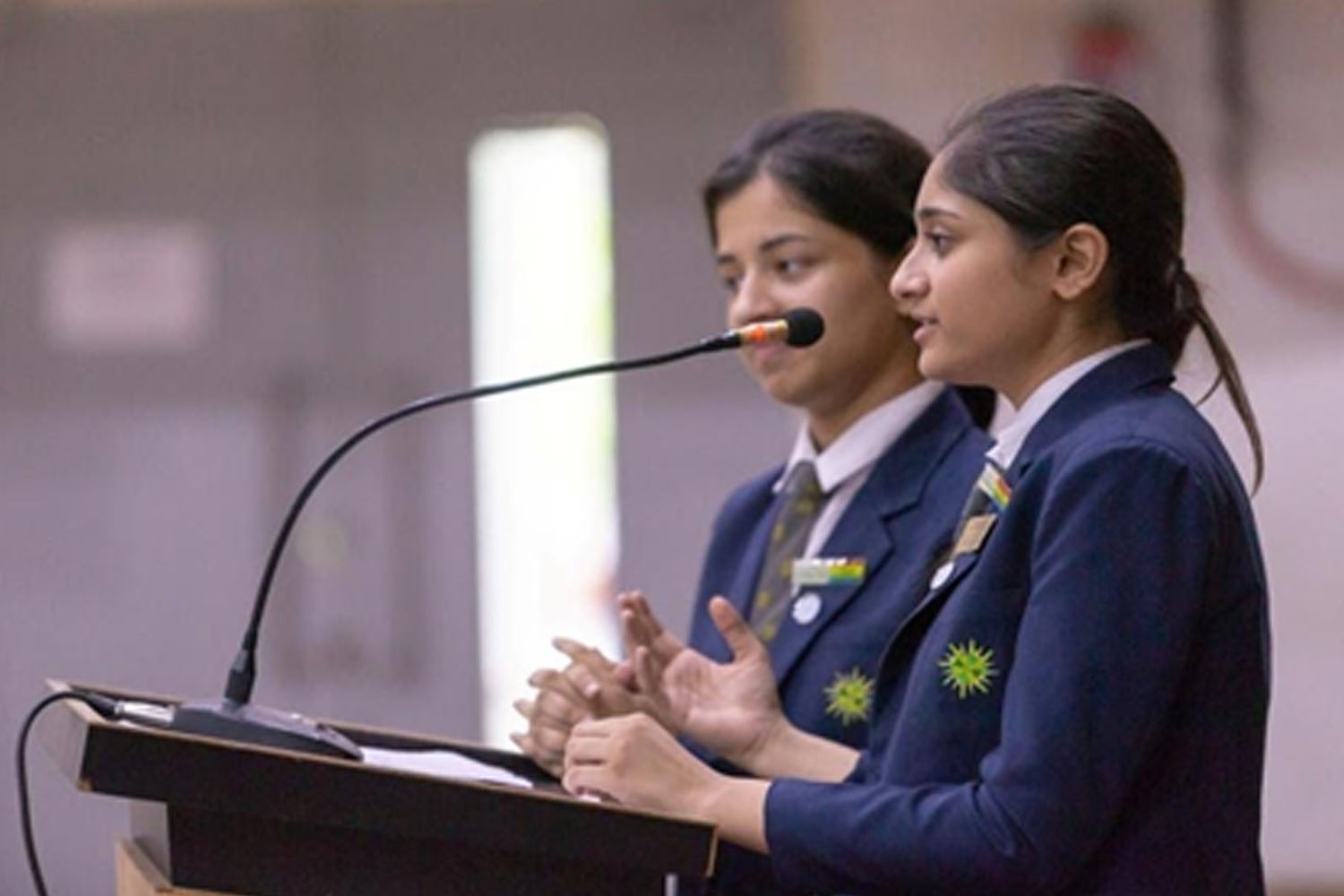 Mental Health Awareness
The Interact Club members of the school organized a talk show for the Parents of the secondary school students, in July 2019. In this the President of the club along with her team mates spoke how mental health is equally important. They put forward children's perspective and how they can be helped.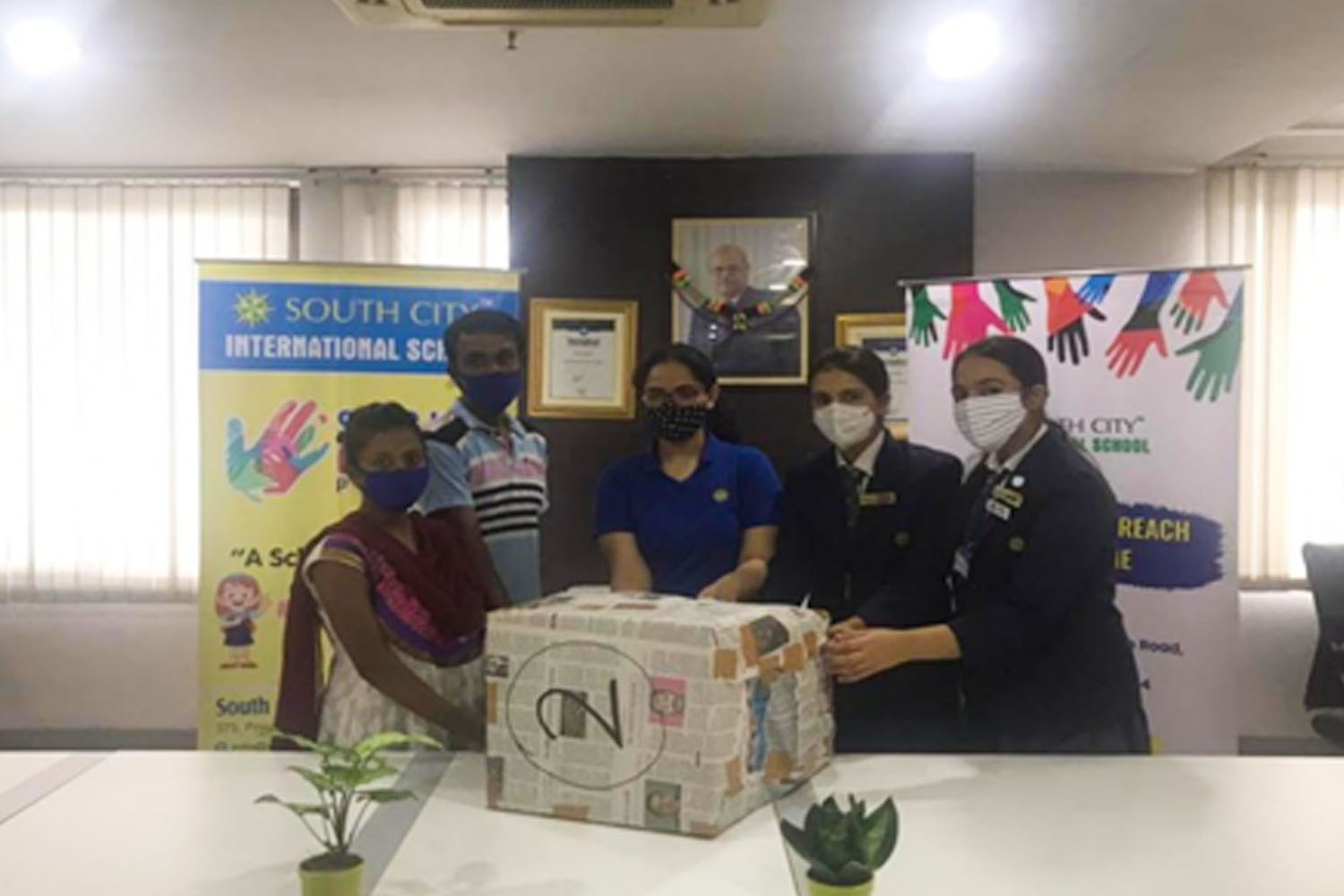 Justice Cell
Students of South City International School were not afraid to venture into the darker realms of society. In November 2020, SCIS successfully formulated its very first Justice Cell—a body advocating for socially prevalent issues like Human Trafficking and Social Injustice. The core team of this one-of-its-kind body hosted its very first Intra-School Model United Nations with the support from International Justice Mission, Kolkata. The two main agendas of this Model United Nations Conference was to stand up against the inhumanity against women and Human Trafficking. Alongside spreading awareness, this was a fundraiser through which the students raised an approximate of ₹10,000.
The proceedings of this fundraiser went as follows:
The school donated about ₹3700 to the NGO Little Sisters of the Poor who were facing a major need of necessities like Ration, basic hygiene products, etc.
The students donated ration like 10kgs of Dal, 15 kg of Sugar, 20 Kg of Rice and 15 kg of Flour.
A donation of ₹5000 was made to an NGO, Responsible Charity which works towards the holistic development of underprivileged people
For about ₹4000, the school procured Necessity Items like Sanitary Napkins, Ration to aid two victims of human trafficking.
Voicing Youth
Voicing Youth is a global youth-led initiative undertaken by some of the senior students of South City International School, working towards Youth Empowerment and Education. In June 2021, they had set up a drop box in school, for Old books and stationery wherein they collected 300+ educational resources like story books, text books, pencil boxes and donated the story books to an NGO called 'Ektara'.
And the good work continues …